Today's guest speakers are Gelato and Maras Dondurmasi. It will be the most unforgettable battle after the Italian espresso vs. Turkish coffee :-) First, we are unpacking the secrets of Italian Gelato. I purchased one from Trader Joe's for 2.99$, it is generic brand, or Trader Joe's brand. Tasted good to me. But, what is beneath the mystery of this kind of ice cream?


Let's start off with Trader Joe's Fans website, talking about Ginger
Flavor Gelato Classico. Unfortunately, they say the ginger flavor is not available anymore. I never had a chance to try it, and would like to try it, but cannot try it now! What type of marketing is this? Fanny from France is speaking the language of gelato in her Food Beam blog. She is really putting a lot of effort in her blog, a nice job, delicious recipes, and all that. Highly recommended. I am kindly sharing this gelato image on the left with her permission. I hope she won't say no:)

OK, from another highly recommended one, but this one is a food brand, Gelato Classico. They describe the history of Gelato as:

"Legend has it that the Roman emperor Nero invented Italian ice cream, or gelato, by mixing milk with ice brought from the mountains. While it is impossible to pin down the exact origins of this dessert, the oldest known recipe was written by a Roman general in the first Century B.C. By the 16th century, Sorbetto and Gelato had become mainstays of the Italian diet, and the frozen treats quickly spread to the rest of Europe."

Then, what a about the brand, Gelato Classico? Here it is:

"Flash forward to 1976. Starting with a single shop on a San Francisco side street, Gelato Classico quickly became renowned for its dazzling array of flavors. The smooth, silky texture is unlike anything you've ever experienced, and the intense flavors will dazzle your palate. Gelato Classico is truly in a class by itself. Just one taste will prove it. Irresistibly creamy, delicious – and downright decadent – the recipe is a well-guarded secret."


And now, as we have a battle between Italian espresso and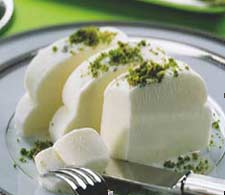 Turkish coffee. We have another friendly, delicious battle between Italian gelato and Turkish ice-cream. Oh, it is so yummy even to think about this Turkish ice-cream, Maras Dondurmasi. Although it is from one city of Turkey, called Kahramanmaras, it spread out around the world carrying our flag with it.

Even my friend in Japan said they have stores
selling this awesome ice-cream. It has a very nice gummy flavor that it doesn't melt right away, you can actually bite it and chew it. Credits given to Chow, who described Maras Dondurmasi very fine. He says, "it's ice-cream, it's taffy, it is Maras Dondurmasi!" Better article was linked in this Chow post that comes
originally from the magazine of Saveur. As Chow blogger says, "Saveur blows the lid off of this exotic sweet by sending one of its writers on a 24-hour journey from San Francisco to Maras, where she hangs out in a dondurmasi shop and proclaims the stuff dense, silky, and subtle."

OK, here I am sharing a nice video show about Turkish ice-cream. See, it is not only served on a plate. You eat it with a waffer cone. And, the ice-cream vendor is supposed to do some tricks while handing in the cone to you. A genuine Turkish vendor is making a show to the local Taiwanese people. The flavor, the show, the taste, and all experience. Now decide, is it gelato or Turkish ice-cream?


According to an article I read in one of the finest ice-cream makers in Turkey, Yasar Dondurmasi, Maras Dondurmasi has a history of 300 years. During the foundation of Maras Dondurmas, Roman Ice-Cream has already been known, and have been reproduced (faked) at many places. However, Maras Dondurmasi cannot be reproduced anywhere else around the world. The main ingredients come from the finely fed local goats' milk and local orchids. Then here comes the unbeatable flavor and aroma.